About Our Club
Who Are We?
UA Astronomy Club is comprised of students with many different majors, but one ultimate passion: "SPACE, the final frontier" (Please read that it the voice of Sir Patrick Stewart). There is no requirement to join our club. We strive to make Astro Club a fun and engaging environment in which students have the ability to hear from world-renowned professors and speakers in space science fields, work on groundbreaking research in teams, work on hands-on projects like astrophotography, model rocketry, and planetarium-building. In addition to holding weekly meetings and participating in outreach, we also have social events, such as movie nights, game nights, sports nights, club trips*, and stargazing adventures. If you would like to become a member of Astronomy Club, please contact us or come to our meetings (the time/location is on our home screen). Dues are $10 per semester and are put toward club projects and activities. We promise to try not to get too nerdy…maybe. 🙂
Click to view our Constitution.
*Every year, Astronomy Club attempts to expand our knowledge and experience a fun, new place that features something astronomy-related. In the past, we have visited places such as the Very Large Array of radio telescopes in Soccorro, New Mexico, and the California Science Center and Griffith Observatory in Los Angeles, California. We also regularly try to visit observatories in the surrounding Arizona area, like Kitt Peak, Mt. Lemmon SkyCenter, and Mt. Graham. These trips are partially paid for by club semester dues and the university, but your contributions also help us keep expanding our horizons.
Where Do We Come From?
Students come from all around the world to study Astronomy at the University of Arizona in Tucson, the Astronomy capital of the world! Check out where some of our club members, past and present, are from!
Our Advisor

Dr. Yancy Shirley is an Associate Professor of Astronomy at Steward Observatory. He specializes in radio and infrared imaging and spectroscopy utilizing single-dish radio telescopes, interferometers, and space-based observatories. He received his undergraduate degree in Astronomy, Physics, and Applied Mathematics from the University of Arizona in 1997. In 2002, he received his PhD in Astronomy from the University of Texas at Austin, He was a Jansky Fellow at the National Radio Astronomy Observatory in New Mexico from 2002 – 2005, and a Bok Fellow at the University of Arizona from 2005 – 2008. We have loved having him as an advisor for the past several years.
Fun Facts: He grew up in North Central Indiana, and is wicked good at baseball trivia.
Astronomy Club Speaker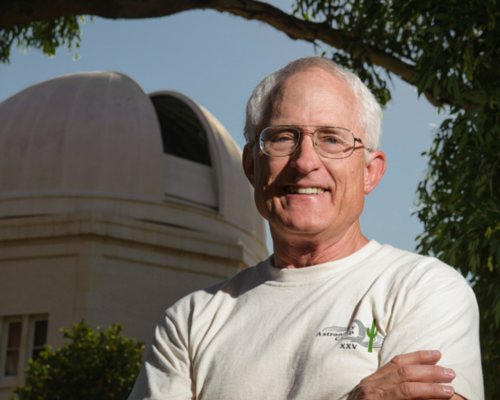 Dr. Don McCarthy is an integral part of what makes Astronomy Club so amazing. In 1970, he received his undergraduate degree from Princeton in Physics, and graduated with his Ph.D. in Astronomy from the University of Arizona in 1976. He is now an Astronomy Professor and Lecturer at Steward Observatory. He is part of the University of Arizona Seventeenth Annual Regents' Professors, University Distinguished Professors and Distinguished Outreach Faculty. Dr. McCarthy received the 2012 Education Prize from the American Astronomical Society, and the Distinguished Achievement in Science Education from the UA College of Science in 1996. Every week, Dr. McCarthy speaks at Astronomy Club meetings, presenting engaging science and math problems for students, encouraging them to think more critically about the world around them.
Fun Facts: He is also the director of Astronomy Camp, America's longest running science camp. He grew up in Minnesota, and currently has taken up long-distance biking.
Our 2018 Officers
| | |
| --- | --- |
| Name | Office |
| Mackenzie James | President |
| Ryan Webster | Vice President |
| Madison Walder | Secretary |
| Emily Walla | Outreach Functionary |
| Jimmy Lilly | Treasurer |
| Collin Lewin | Historian |
| Sammie Mackie | Technology Officer |
A roster listing some former club members can be found on the Former Members subpage.